Registering New Apps and Adding New App Versions
To start developing your app, you need to register it in the Marketplace. To do this, go to partners.bitrix24.com > Bitrix24 Apps (at www.partners.bitrix24.com) and click Add application.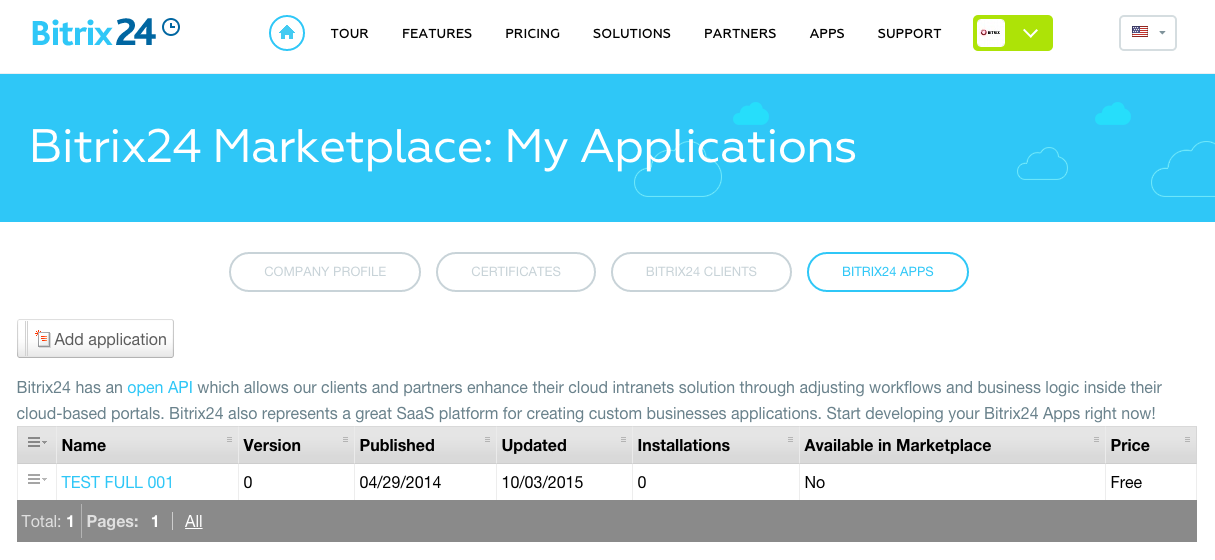 The following form will open: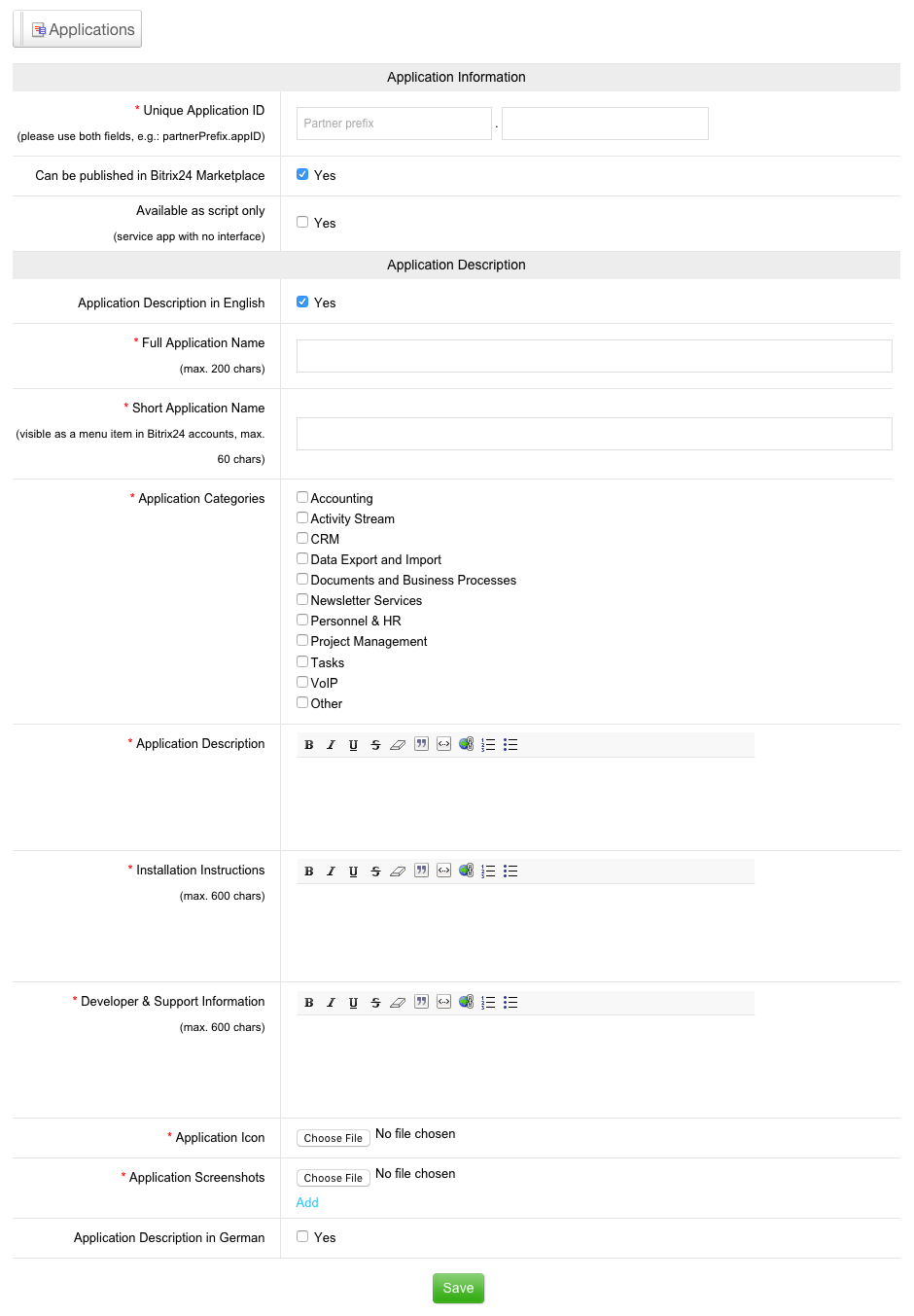 Enter a string of your choice in the Unique Application ID field. Load an icon and screenshot for the app.
If you want you app to be accessible to all Marketplace visitors and not only to yourself, then check Can be published in Bitrix24 Marketplace.
The Available as script only parameter requires special attention. If your app is external, then this option must be checked. In other cases, this option is not needed.
Provide a description for your app. Press Save.
Now you can add the first version of your app. In the context panel, click Add new version: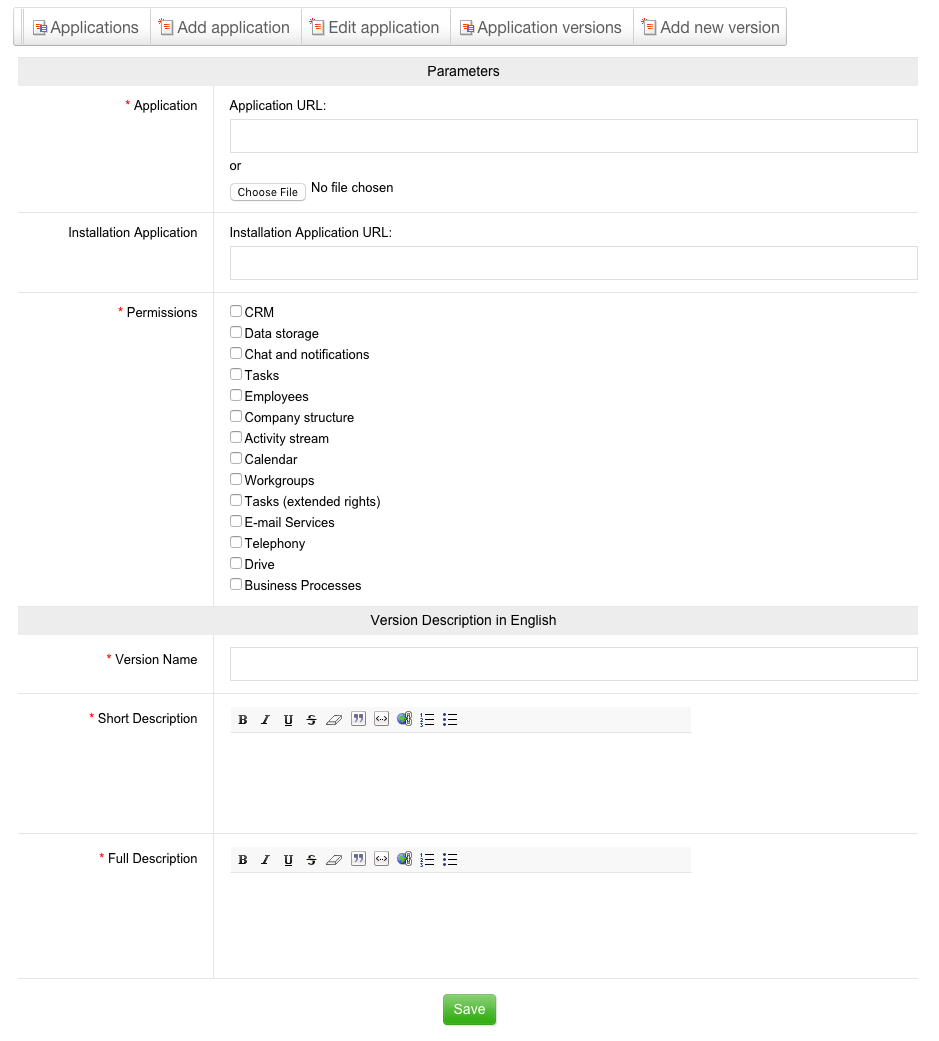 Fill in the parameters:
In the Application field, enter a link to your app, if it is located on a remote server or is an external app (see the app types). To upload an archive of the app to the Bitrix cloud, use Browse...

Important! The link to an app on a remote server must use https protocol, otherwise the app will show an error after install in an intranet.

In the Installation Application field, enter the link for what will be executed the first time that a Bitrix24 intranet administrator installs the app.
Publish – check this option if the app is ready for publication in the Marketplace (this option is available in the version-editing form). If you are still testing an app, then this option should not be checked.
Permissions – enter what level of access to intranet user data your app requires.
A version description is mandatory. Click Save. After approval by a Bitrix administrator, the app will be accessible in the Marketplace for install in instances of Bitrix24.
Do add the latest version of your app:
Open the page with the list of apps: partners.bitrix24.com > Bitrix24 Apps.
Click on the name of the app to go to that app's detail page.
Fill out the various fields as is done when first loading an app (see above).
A list of all versions is accessible on the Versions tab on the app's page:

User Comments
User comments are not part of official documentation. Use information provided by other users in the comments at your own risk.

The User Comments section is not to be used as a feature discussion board. Only registered users can post comments. Your comment will be visible once it has been approved by the moderator.

© «Bitrix Inc.», 2001-2021, «Bitrix Inc.», 2021