: 729 (Data available since 06.02.2017)
: 14.07.2014
The message files localization can be implemented the following ways:
manually (when the site administrator searches and translates necessary message files);
with use of the Localization module tools.
The Localization module provides users with the handy interface for text messages search and translation. The Localization module allows:
to look through the message files distribution among the system files;
define the number of not translated text messages for every file;
proceed to the necessary text messages translation.
In order to view distribution of language communications by files, go to the page Interface localization (Control Panel > Settings > Localization > Browse Files) and click the button Show differences on the context panel: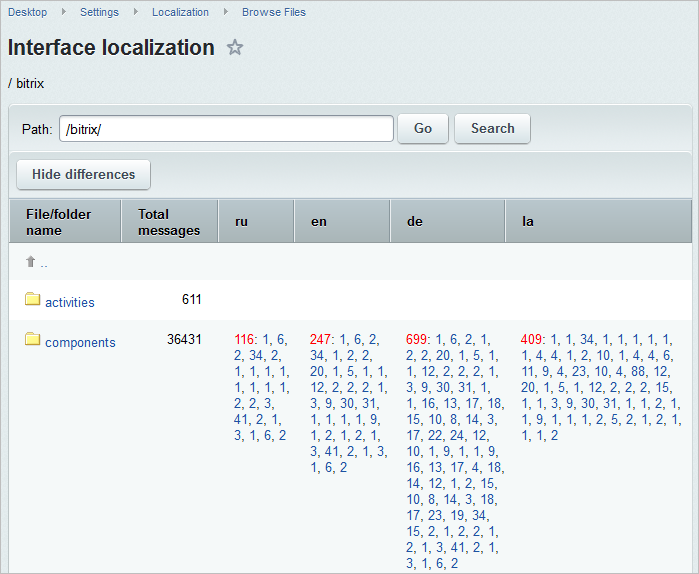 The number of untranslated phrases used in a file or directory for each language is marked in red.
Note: For big projects, it is not recommended to search for differences in all the product files; it should be done in stages, for each folder. Otherwise, the error 504 Gateway Timeout may occur.
In order to translate language phrases, a file for which language communications are used should be selected, and a translation of the communication to a relevant language should be entered: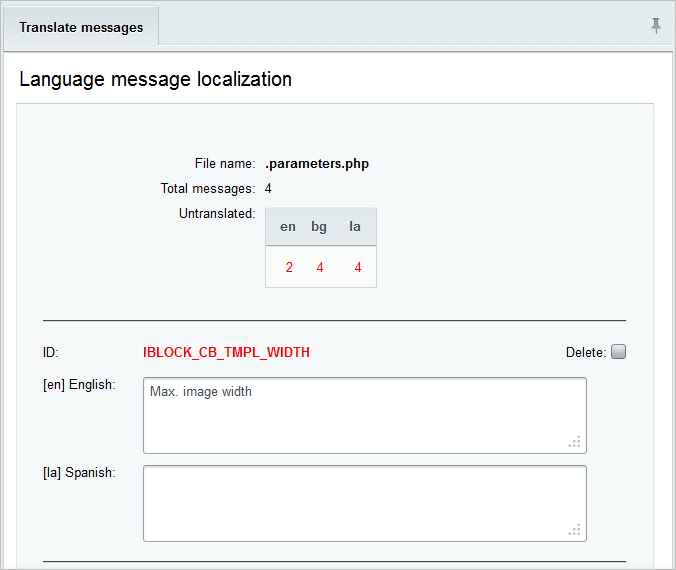 Note: This form shows translations into the languages of the same encoding. I.e. if the ISO-8859-1 encoding is set for the English and Spanish language settings and Windows-1251 for the Bulgarian language, the form will contain fields to introduce the translation of the message into English and Spanish. To translate the phrases into Bulgarian, the interface must be switched to Bulgarian.
You can quickly start translating the missing messages directly from a page on which these messages are used (both in the public section and Control Panel). To activate the quick translation mode, use the Show Language File button (it is visible if the corresponding option is checked in the Localization module settings)

or add the parameter show_lang_files=Y to the page address:

As the result at the bottom of the page will be displayed list of message files used on the page: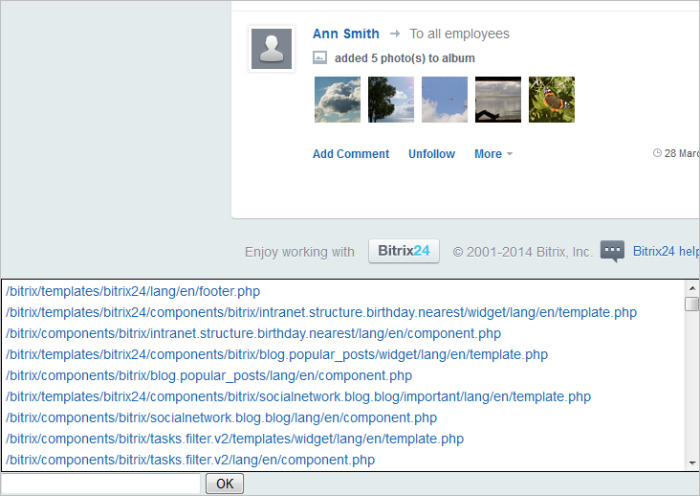 File names are shown as links, which can be clicked to open the language file for editing. In the end of the list you will find a search field. You can use it to find a required message (exact match).
Information
: All localized phrases can be collected with use of the special tool. Collected files can be placed in the
Update system
for downloading by other users. Please refer to the
Localization Guide
for more details.
---