Views: 639 (Data available since 06.02.2017)
Last Modified: 26.06.2015
The External data import (xdimport) module lets you inform users via the Activity Stream of information and events which take place outside of the intranet.
For example, you can feed information from an external source with any POST request, RSS feed, or using an XML file directly to the Activity Stream of the intranet itself, or to that of a workgroup or individual user.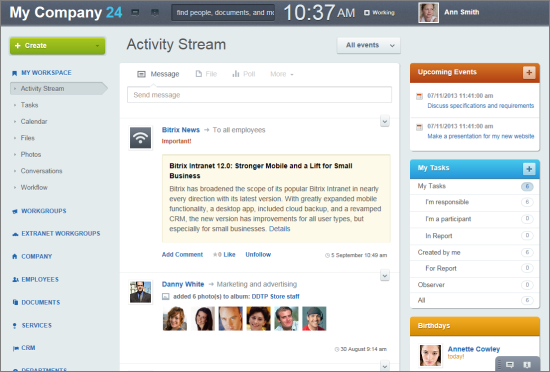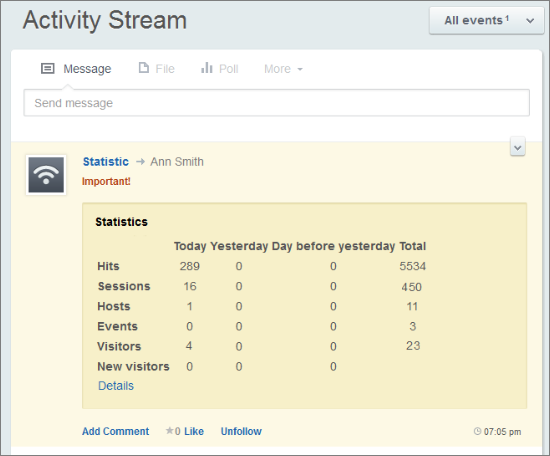 Configuration
To set up a data feed, go to Control Panel -> Desktop -> Services -> External data sources -> Publishing to Activity Stream.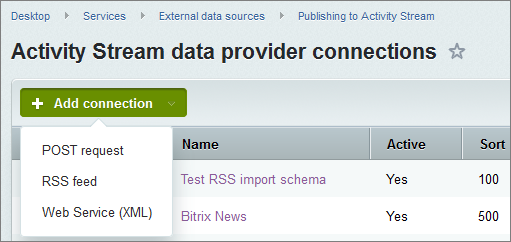 There are 3 way (protocols) for importing data:
POST – accepts information via HTTP protocol in the form of a POST method query;
RSS – import from an external RSS feed;
Web-service (XML) – import using service oriented architecture (SOA) or web services.
To set up a connection, you need to fill out the connection parameters.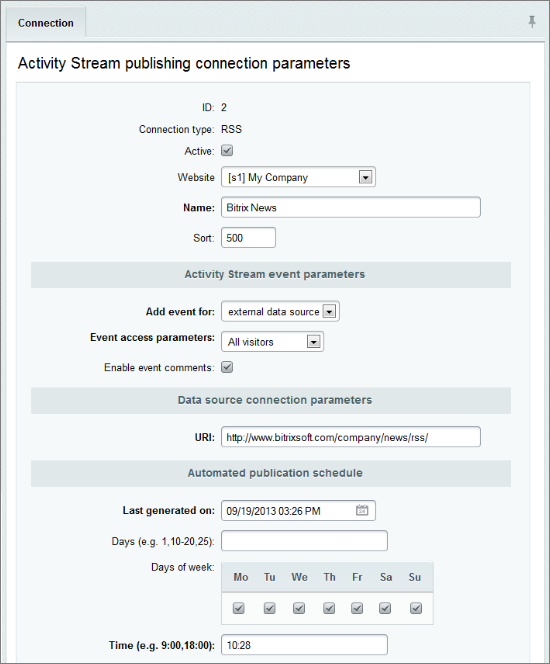 In the Name field, enter the external data source (its name will be displayed along with the date in the Activity Stream).
Enter to what Activity Stream (A/S) the import will be performed using the Add event parameter.
workgroup – the A/S of a given group;
user page – the A/S of a specified user;
external data source – A/S with a choice of recipients.
From this point, each form type stated above has its own nuances. We'll look at the each type's further settings individually.
Settings for the POST regime
In the POST request connection parameters section there is an intranet webpage where the POST request parameters should be passed (the parameters are also displayed).

hash – hash authorization so that the intranet allows import of data;
title – heading of the event to be displayed in the A/S;
message – text of the message for display in the A/S (can include HTML formatting);
text-message – text of the event plain text (for notifications to subscribers by email and IM);
url – the true path of the event for viewing details of this event outside the intranet.
Settings for RSS
In the URI field, enter the path of the source RSS feed.
In the Automated publication schedule section, the schedule for import of data from the given RSS is listed.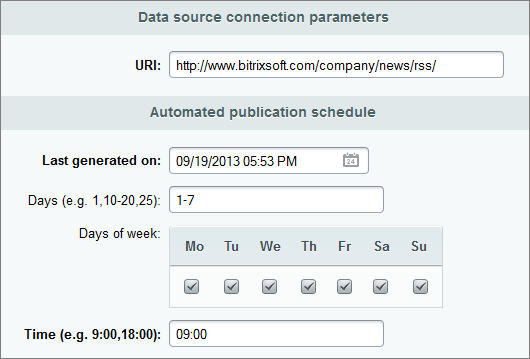 Settings for Web-services (XML)
Here you enter all the necessary parameters that are needed to connect with the web-service.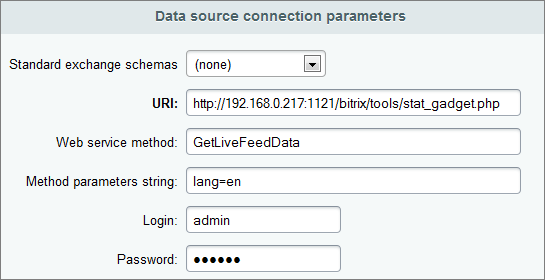 So there are two internal examples of data which can be shown in the Activity Stream – Website statistics and Orders statistics. For these, you only have to enter the server and login data.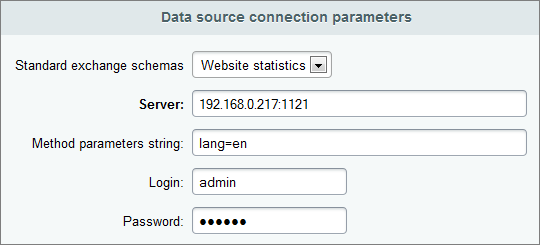 ---