The Amber Public Interface (since version 9.5)

Using the workflow module

More uses for user groups

Managing interface languages

Creating and publishing news

Creating a product catalog

Internal customer accounts

Creating lessons and tests

Publishing a training course

Functions available in the public section
The Currency module is designed to manage currencies and their exchange rates. This module is required for proper functioning of the Commercial catalog and e-Store modules. You can manage currencies in the Currency form:

Settings -> Currency -> Currencies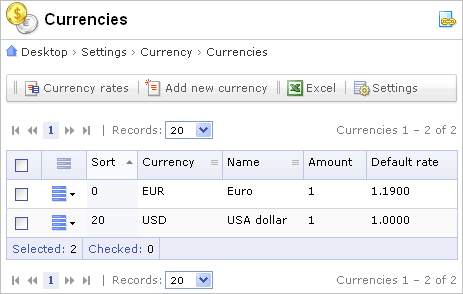 Note: there is always a base currency which is one of the existing currencies. Rates of other currencies are calculated relative to the base currency.
Each currency has the following parameters: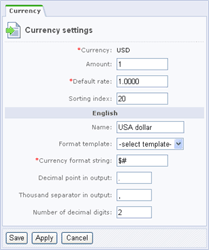 symbol identifier (e.g. USD, EUR);
face value (here: the value of a currency unit);
default rate (used for conversion unless newer rates exist in the Currency rates form);
currency name and format for each language in the system.