Views: 718 (Data available since 06.02.2017)
Last Modified: 31.03.2014
Start up the preset virtual machine BitrixVA (see the lesson Running the Bitrix Virtual Appliance).
Enter http://virtual_machine_address/ in the browser address bar (you may indicate a domain or IP address). The Birtix product installation wizard will open. Choose the option of Restore Project: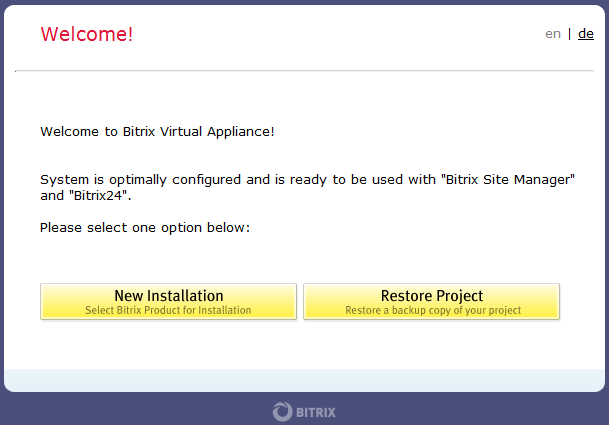 At the stage of downloading of a backup copy, please select the required means of storing the site archive (in this case, enter the link provided by the exchange buffer on the page with the list of backup copies of the site):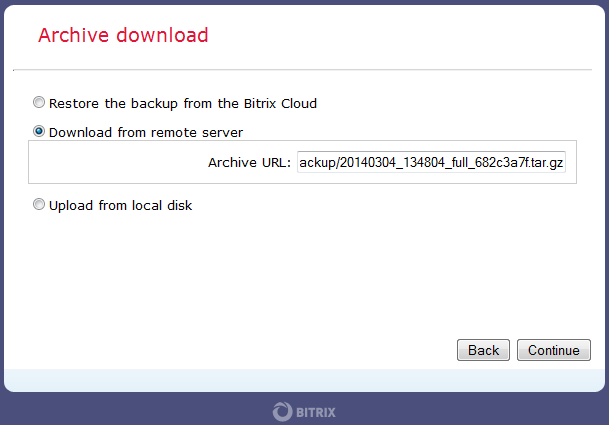 Note: it is also possible to download the archive from Bitrix Cloud (a license key with a valid license is needed) or from a local computer, if such means were selected at the stage of creating the site archive.
If the archive was encrypted, password prompting appears following the archive download.
After that, a database connection must be set up: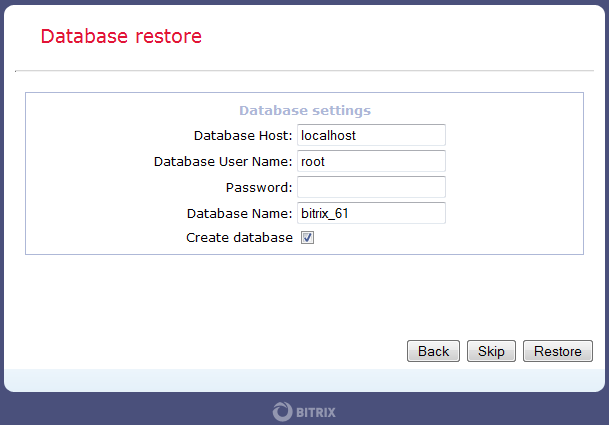 Default MySQL connection settings in the BitrixVA virtual machine are as follows:
Server: localhost
DB user: root
Password: <empty>
DB name: sitemager0
Specific database name may also be indicated, if necessary. In this case, the option Create database must be additionally selected if no database exists as yet.
For safety, having successfully restoring database, please Delete archive and temporary scripts by clicking the button with the same name.
The Bitrix product migration to the BitrixVA virtual machine is now completed.
---