Views: 868 (Data available since 06.02.2017)
Last Modified: 25.08.2014
Attention
: According to the license agreement, one key allows only two installations of the system: a public installation and a local (developer) installation, the latter being unavailable from the Internet. Should an error message appear about exceeding the acceptable number of product installation please contact
Helpdesk.
Registration entitles you to obtain latest system updates and receive support from the Bitrix technical support service..
Moreover, having your commercial copy registered you can access the Bitrix private forum where users and Bitrix developers communicate and discuss important issues, resolve user's problems.
To register your copy:
Since your copy is not registered yet, you will see the following error message: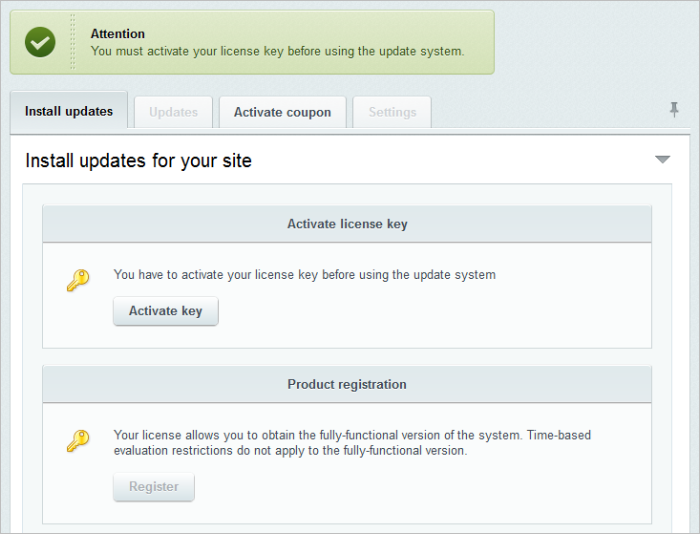 You will see the following form: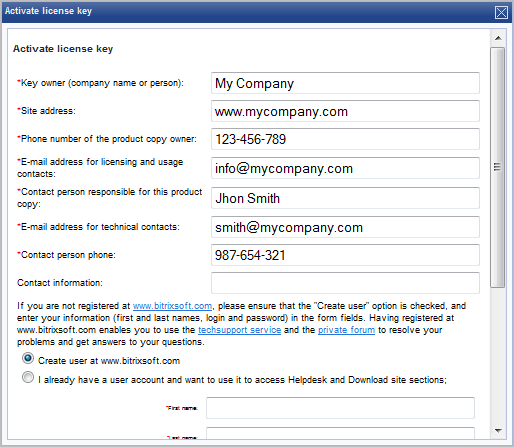 Note: fields marked with asterisk (*) are required.
Fill in the following fields:

Key owner (company name or person): please indicate the name of the company which is the key owner. If a private person owns the key, please provide the name of that person here.
Site address: please indicate the addresses of the sites that will be managed using the system with this license key.
Phone number of the product copy owner: please indicate the contact telephone number, with the area code, of the product owner.
E-mail address for licensing and usage contacts: please provide an email address that may be used by the employees of Bitrix, Inc. to contact you, if necessary.
Contact person responsible for this product copy: please indicate the full name of a responsible contact person.
E-mail address for technical contacts: please indicate the telephone number of a contact person.
Contact person phone: here, you may provide additional contact information: email addresses, mail address, contact telephone numbers, etc.
Contact information: here, you may provide additional contact information: email addresses, mail address, contact telephone numbers, etc.
Create user at www.bitrixsoft.com: if you are not a registered user at Bitrix, Inc., please check this box. After the activation of your license key you will be registered on the company website with the registration data indicated in the boxes below. Using the indicated registration data you may contact Bitrix Help Desk and also obtain access to a forum on the company website intended for registered users only.
I already have a user account...: please check this option if you are registered at www.bitrixsoft.com and indicate your login.

Click Activate license key. The license will be activated.
Then, you have to obtain a full version of the system without limitation on the operating time. Click Register. The product will be registered using the data provided during activation:
Note: If for some reason, the license key has already been activated, you will be offered to register the product in the update system.
When finished, the license information will be available: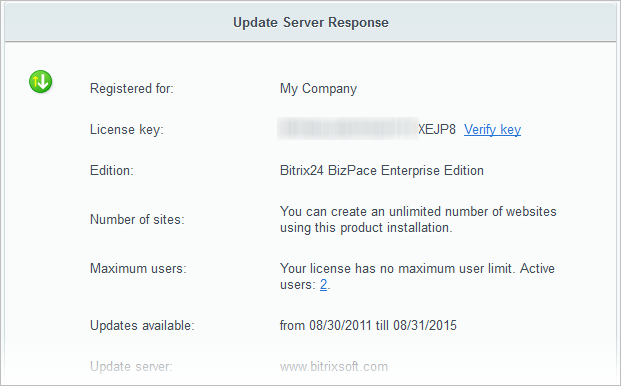 ---