Views: 340 (Data available since 06.02.2017)
Last Modified: 10.10.2012
The Bitrix Site Manager features creation of unlimited number of sites with the use of a single copy (license) of the product, keeping a single installation of the system kernel and database on the server. Maximum number of sites is limited only by the license terms. If you want to create more sites over the current limit, you have to purchase the appropriate license.
Buying licenses for extra sites implies that you are given a respective number of coupons (one coupon for one license). Extra licenses and coupons match the product edition. For example, to create one more site with the Professional MySQL edition, you have to purchase a license (coupon) for an extra site for the Professional MySQL edition.
After you have obtained a coupon, enter it and click the Activate coupon button.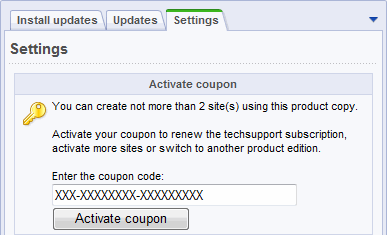 If the coupon is valid (i.e. it matches the current product edition and was not activated before), the maximum number of sites for this product copy will be increased by 1.
---