Views: 445 (Data available since 06.02.2017)
Last Modified: 10.10.2012
Here you will configure the web site and create a web site administrator's account. The administrator's account provides full access to web site management and configuration. After the installation is complete, you can create more users with less permissions.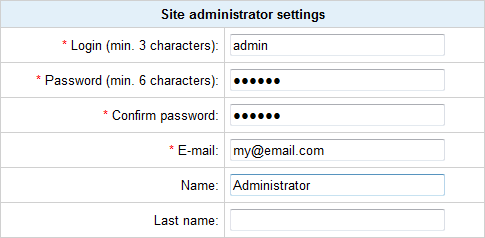 Note: fields marked with asterisk (*) are required.
Login: the site administrator login to access the Control Panel pages. Must contain at least 3 symbols;
Password: the site administrator password. Must contain at least 6 symbols;
Confirm password: type the password again to validate it.
E-Mail: the address of the site administrator's e-mail account;
First name, Last name: the real name of the site administrator.
---