Views: 346 (Data available since 06.02.2017)
Last Modified: 10.10.2012
If you install the MySQL version using Bitrix Environment, you will not have to install any additional software manually. A simple and easy-to-use installer will automatically install the following applications to your PC:
MySQL 5.0.51;
Apache 2.2.15;
PHP 5.3.2;
Catdoc - MS Office file indexing;
xpdf- Adobe PDF file indexing;
msmtp E-Mail Manager.
Bitrix Environment copies the application files to an isolated folder. Bitrix Environment helper applications will not conflict with any existing installations of MySQL, Apache or PHP.
Your system should meet the following minimum requirements to install and run Bitrix Environment:
Windows 98/ME/NT/2000/XP/2003/Vista/2008 Server;
100 Mb of free disk space;
Internet connection if you install using the downloaded Bitrix Environment package.
You can always download the latest version at http://www.bitrixsoft.com/download/.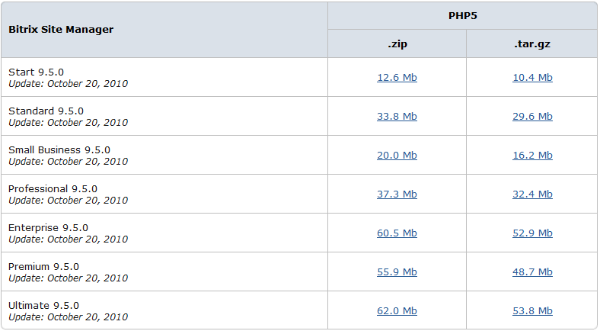 Choose here the required installation version.
Download an .exe file of the required edition. The package file is in the format xxx_encode_phpN.exe, where xxx is the edition abbreviation and, N is the PHP version, for example: smb_encode_php5.exe.
Run the downloaded file.
---