Attention! Support of softphones is in beta mode, steady operation is guaranteed only with SIP phones.
Let us consider an example of softphone set up. Install and run the Join software on an iPhone. In settings, open the Accounts menu.
Add a new account and indicate the connection data from the user's card on Bitrix24 in the settings of such account: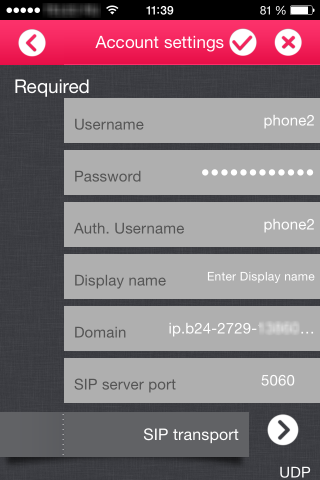 User's name and Auth. Username is a Login field value;
Password is a Password field value in the user's card;
Domain is a Server field value.
Having saved the setting, you will see your account in the list as a registered default account.
Ask your colleague to make a call to your incoming corporate number integrated with your portal on Bitrix24. The call will be successfully forwarded to our freshly set up softphone.
At the same time, the processing of the inbound call will start on your computer: a client's card will open enabling you to add a deal, edit a client's data, make entries to the negotiation's history, etc.