Any Bitrix Framework based web site is always preconfigured for the use of the basic protection level. However, you can improve the site security significantly by selecting one of the Proactive Protection module presets:
Remember that all the security levels are inclusive, which effectively means that you have to set the parameters of the standard level prior to configuring the higher protection levels.
The Security Control Panel page (Settings > Proactive Protection > Security Panel) shows information on a current security level. For each level, there is a table of parameters and values. Security Control Panel shows recommendations on changing parameters to the recommended values, if necessary.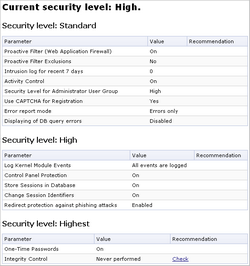 If an incorrect value has been specified for a parameter, the Recommendation field will show a useful hint about it.