Bitrix Intranet Portal allows to search any storage for required information: static pages; MS Office documents; user profiles; information block contents; forums; blogs etc.
The following two search modes are possible:
The portal search page consists of only one component: Common search page (bitrix:search.page):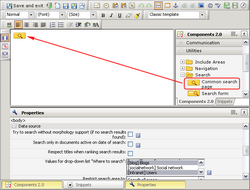 The component parameters define the search page look and the search scope.
Note:
by default, Bitrix Intranet Portal supports the inclusion of
MS Office 2007
documents in the search index. For documents of earlier versions of MS Office, follow the instructions in the
Search of MS Office documents of earlier versions
chapter.