By using RSS export, administrators can exchange data (e.g. news, catalogs etc.) with other systems. RSS export is only available for information blocks whose type has the option Export to RSS enabled.
Content -> Information blocks -> Information block types -> <select your information block type>: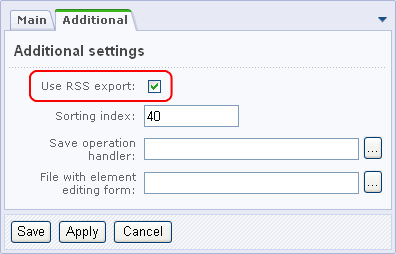 You can specify the path to a folder where the system will store the exported files, in the settings of the Information blocks module.
Settings -> System settings -> Module settings -> Information blocks.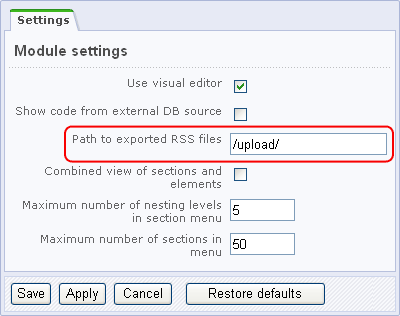 Note: the RSS export path is always relative to the site root!
For example, you can export data in the RSS format from any information block using the settings of the composite visual component.
Do the following to enable the RSS data export:
create the page (for example, /content/news/index.php ) using the visual HTML editor. Add the News composite component to the page and configure the component by specifying the required information block, RSS settings and other parameters:

Note: you must ensure that the selected information block is enabled to export data to RSS (the option Export to RSS should be enabled).

The created page looks like here:

Now, if all the preparations are correct, opening the rss page will emit the list of elements in the RSS format.
You can find an example of such page in the demo site of the trial version (
/content/news/index.php
)