Configuring the Component Parameters in Site Design Mode
You can manage the parameters of components on your pages directly from the site public section: authorize and click the Design tab. Then, to invoke the component properties form:
click the component control button and select the command Edit component parameters,
or
click Components on the Control Panel toolbar and select the required component from the dropdown menu:





Note: the order of items in this menu reflects the order of components on a page.
The following form will open: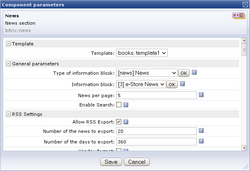 The form is similar to the Properties bar in the visual editor. The Save button applies the changes made.