The Amber Public Interface (since version 9.5)

Using the workflow module

More uses for user groups

Managing interface languages

Creating and publishing news

Creating a product catalog

Internal customer accounts

Creating lessons and tests

Publishing a training course

Functions available in the public section
Users can manage blogs in the public section of the site, or via the Control Panel.
Note: only users that have full access to the Blogs module can manage blogs in the Control Panel.
The following entities can be managed in the Control Panel: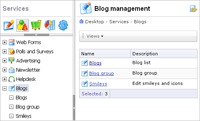 all blogs;
all blog groups;
smileys.
Other elements (the blog owner's profile, user groups, blog users, message groups and tags etc.) are managed via the public interface.

Besides that, you can define some other parameters (avatar dimensions and size; path to blogs etc.) in the Blogs module settings form (Settings -> System settings -> Modules -> Blogs):