Update PHP and MySQL versions based upon recommended Bitrix24 system requirements.
PHP and MySQL are not automatically updated during the BitrixVA update. They can be updated manually via the virtual appliance menu item 1. Manage servers in the pool - 8. Update PHP and MySQL.
Note:
Menu item
1. Manage servers in the pool - 8. Update PHP and MySQL
appears only in BitrixVM version 5.1.x and higher.
Indicate all to update only PHP on all virtual appliances with the web role, included into the pool, or indicate an appliance with a specific hostname for updating PHP and MySQL: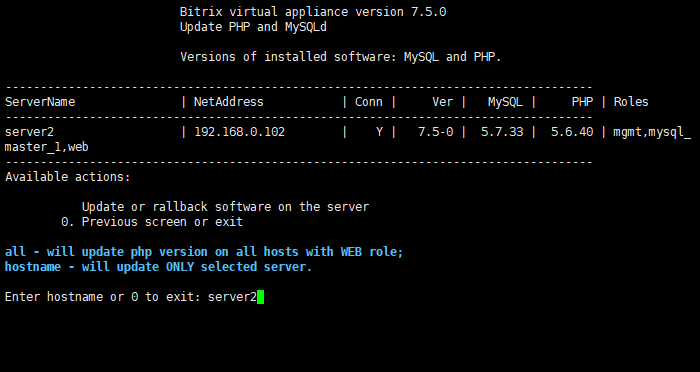 Then, select PHP or MySQL options: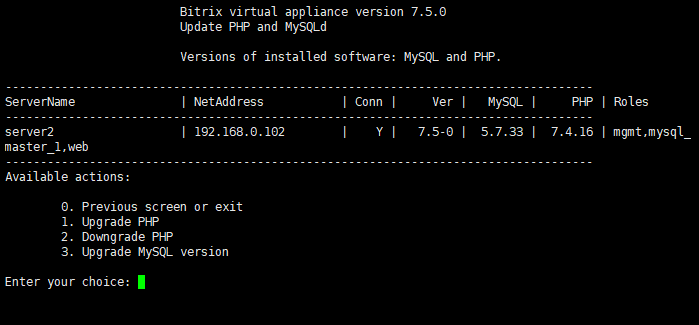 1. Upgrade PHP
Presently available PHP versions: 5.6, 7.0, 7.1, 7.2, 7.3, 7.4. To update the version, select a suitable item Update PHP to version х.х: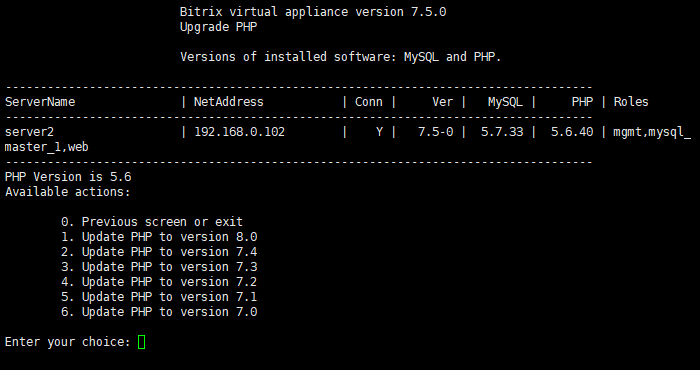 Attention! Updating PHP to version 8.0 is шт pilot stage, we do not recommend to update 8.0, because Bitrix24 support for this PHP version is still in development.
2. Downgrade PHP
In similar manner, PHP version can be downgraded, by selecting a required version via the menu item Downgrade PHP to version х.х. Minimum PHP version for VMbitrix.CRM – 7.0.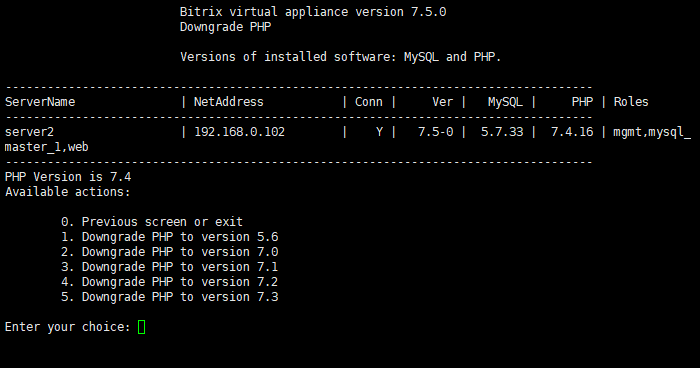 3. Upgrade MySQL version
If you have updated BitrixVA/BitrixEnv to version 7.1 and higher, then you will have an option to update MySQL version to 5.7 Percona DB. It can be done via selection of item 2. Upgrade MySQL to 5.7 version: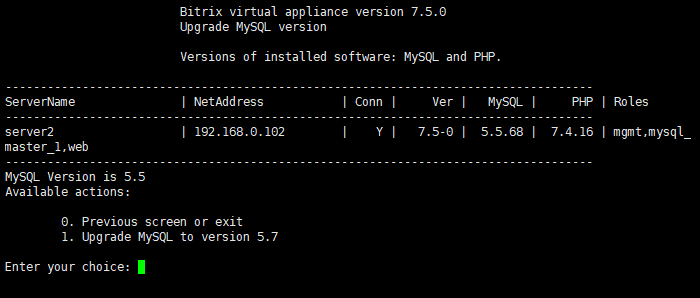 After updating MySQL to version 5.7, you can update MySQL to version 8.0 – Upgrade MySQL to 8.0 version: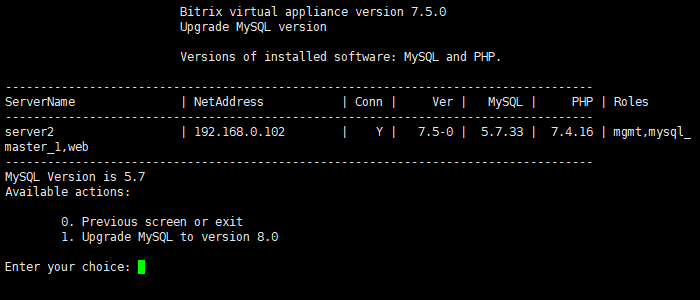 Attention!
Task execution may take a rather long time (up to 2-3 hours and more) depending on the task complexity, data volume used in such tasks, capacity and server load. You can check the currently executed tasks by using menu item
5. Background tasks in the pool > 1. View running tasks
. If task completion log files are needed to be reviewed, they are located in the following directory
/opt/webdir/temp
.