In this lesson we are going to discuss the procedure of importing external data to the information block structure. Open the XML Import page (Content > Information Blocks > Import > XML).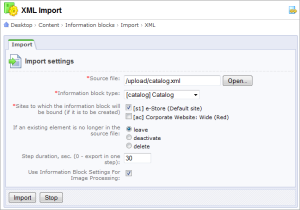 Click the Open button and select an XML file in the server file structure, or upload a file from your computer. Then, select the type of a new information block which will be created during the import procedure. Make sure you have selected at least one of your sites: the new information block will be bound to such sites.
Note
: Generally, when you import data, the system creates a new information block of the selected type. However, if such information block already exists, the XML import engine acts differently. It will update the existing elements using the XML data and create new elements if they are missing in the existing information block. For those elements that exist in the information block but are missing from an XML file, the system will act according to your choice:
perform no operation at all;
deactivate such elements;
delete such elements.
As with exporting large information blocks, the process might take long if a selected XML file is huge. In such case, import may fail if your server imposes restriction on the script execution time. Setting the step duration to a value other than zero instructs the import engine to run in small steps. The default value of 30 seconds usually works best. If you set the step time to zero, all the information will be imported at one step.
If the information block element has an image in the description field, and the Auto-create preview image from detail image option is checked, the system will create a thumbnail image using the specified maximum dimensions.
Having specified all the parameters, click Import. The import procedure will start showing the operation progress. Once the operation is completed, the system will inform you of the status: