The system uses the search index (in the form of index tables) to search information. The following entities can be added to the index:
static files;
forum posts;
blogs;
information blocks;
training courses;
social network.
All text information added to the site in the form of static HTML pages or via the system interface (e.g. information blocks, forum etc.) is indexed automatically.
Important! Only static pages that have the TITLE tag can be indexed and, consequently, searched for.
In some cases (e.g. after importing products or uploading files via FTP) you will have to recreate the index manually; otherwise, new pages and/or information will not be available through the search form.
You can refresh the index tables in the Site reindexing form (Settings -> Search -> Reindexing):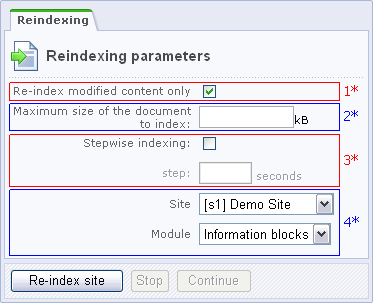 If your site contains a huge amount of information, reindexing may take a plenty of time. To make reindexing complete in less time, you can choose a certain site and/or module whose information is to be reindexed (4*), or reindex only modified files (1*).
If your server experiences considerable load, or if the server software imposes limitation on the script execution time, you can re-index step by step (3*). In this case, you can set the amount of time to elapse between indexing steps.
Again, if your server has not enough processing power and you have large files, you can limit size of files that are allowed to be re-indexed (2*).
Note
: additionally, you can specify types of files to be included in the index, in the module settings (
Settings
->
System settings
->
Module settings
, choose
Search
in the drop-down list):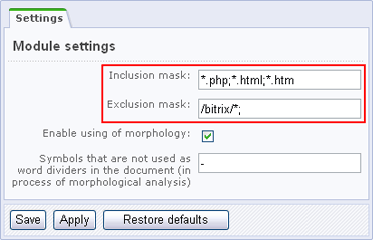 Include files: this field define files that can be be indexed;
Exclude files: files with pathnames that match at least one of these wildcards will not be indexed.