Attention! Enabling Global nginx parameter proxy_ignore_client_abort shall be done only as a last resort - usually it is not required. It is better to do it manually, and for specific location, but not globally for all server. This item will be additionally developed in the next versions of BitrixVA/BitrixEnv.
Enabling nginx proxy_ignore_client_abort parameter can be useful with Telephony, Open Channels operational errors. This parameter determines, if the connection with proxy server is to be closed in case, if the client had terminated the connection, without waiting for response.
To configure this option, it is necessary:
Launch wizard from the menu

10. Configure site options > 1. Configure proxy_ignore_client_abort for site

, input site name and confirm the enabling of the parameter proxy_ignore_client_abort:

Wait until the task is completed.
The same procedure is used to disable this parameter: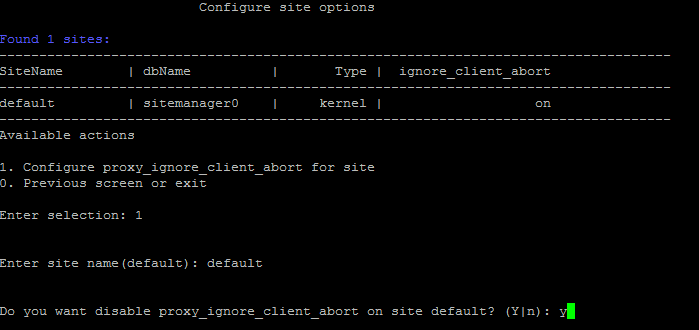 Attention!
Task execution may take a rather long time (up to 2-3 hours and more) depending on the task complexity, data volume used in such tasks, capacity and server load. You can check the currently executed tasks by using menu item
5. Background tasks in the pool > 1. View running tasks
. If task completion log files are needed to be reviewed, they are located in the following directory
/opt/webdir/temp
.