Views: 3792 (Data available since 06.02.2017)
Last Modified: 22.11.2013
All the Bitrix24 service pages have the same layout: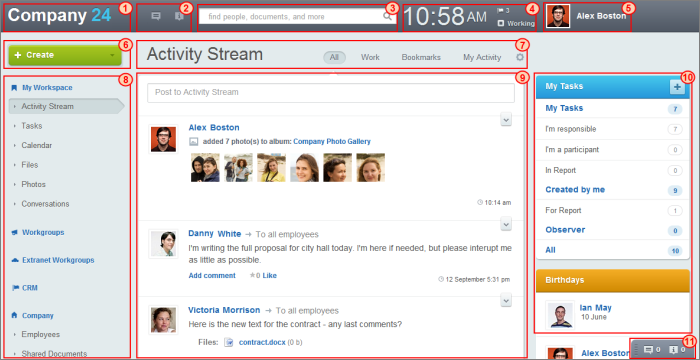 1 - company name;
2 - top notification bar;
3 - search bar;
4 - working time control area;
5 - personal profile access and log out;
6 - quick create button;
7 - shows the name of a current information area;
8 - main menu providing access to all the portal pages and services. The menu sections can be collapsed to make the menu smaller if required;
9 - main information area;
10 - helper menu;
11 - bottom notification bar.
Notification Bars
The top (2) and bottom(11) notification bars provide inform a user of new messages and notifications sent from the portal by other users or system: incoming messages in the instant messenger , task notifications, new comments, likes and similar events.
The bottom notification bar can be used to open the instant messenger window by clicking on the leftmost button.
Quick Create Button
This user interface item is always available at any page enabling the portal users to create almost any type of information item and make it visible to all or selected users: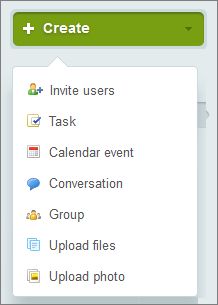 Name of Information Area
This title is a short description of type of information a current page is showing. As an added convenience, the title contains information specific tools. For example, the Conversations page shows the filters: All, My, Incoming:

Helper Menu
Unlike the main menu which remains the same on all pages, the helper menu items(10) depend on the current main menu selection. In addition, the helper menu may show extra filters and lists (for example, birthdays).
---