The Amber Public Interface (since version 9.5)

Using the workflow module

More uses for user groups

Managing interface languages

Creating and publishing news

Creating a product catalog

Internal customer accounts

Creating lessons and tests

Publishing a training course

Functions available in the public section
The Currency Rates (Settings -> Currency -> Currency rates) form is used for what it speaks: it manages the currency exchange rates. This form helps you easily maintain list of exchange rates for all required dates; that is, you can keep a log of the currency exchange rates. This information can help you later, for example, when reviewing orders for a specific period.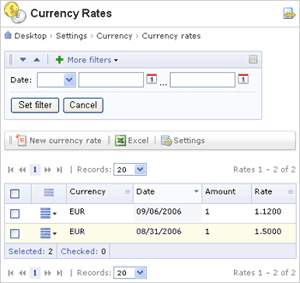 When converting currencies for a current date, the system takes the newest exchange rate. If the rate is not found, the default rate will be used (from the Currency form).
In the currency rate details form, you can obtain the exchange rate for the specified date (from the Central Bank of the Russian Federation) by clicking Query: